Workhsop - Roadmap Initiative to Good Lay Summary Practices
Wednesday, January 15, 2020, Crowne Plaza Le Palace, Brussels, Belgium
Learn about the draft Lay Summary Best-Practice Guideline elaborated in response to the Clinical Trial Regulation and take the opportunity to impact the version that will be disseminated for public consultation
The upcoming Clinical Trial Regulation requires the development and dissemination of Lay Summaries of clinical study results from commercial and non-commercial sponsors. Several large companies have already generated experience with creation of Lay Summaries and in the USA guidance on Lay Summary content have already been developed.
Also, EMA has released an Expert Group Recommendation on the content of Lay Summaries. However, there is no guidance for all types of sponsors on how best to handle the development process of Lay Summaries and how best to ensure reliable dissemination so that the ultimate goals can be achieved: increase of clinical research transparency, patients' and public's understanding of clinical research, as well as feedback to study participants about the results of their study.
To create a suitable, mutually acceptable framework for Lay Summaries a consorted effort of all involved stakeholders is required.
Some of our keynote speakers and faculty will be:
Edit Szepessy, DG SANTE, EU Commission
Till Bruckner, TranspariMed
Kaisa Immonen, EPF
Barbara Bierer, MRCT Center, Harvard Medical School
Debra Gueirrero, Janssen
Nicola Ruperto, Ospedale Pediatrico Istituto Gaslini
Sabine Kläger, ECRIN
Thomas Schindler, Boehringer Ingelheim
Begonya Nafria Escalera, San Juan de Deu Hospital
Lotte Klim, EUPATI Fellow
Amanda Hunn, AJ Associates
Behtash Bahador, CISCRP
Sini Eskola, EFPIA.
Still time to register! Click here: https://form.jotformeu.com/93291775221358
Facilitating High Quality Multinational Clinical Research in Europe: ECRIN Mission and Vision
Wednesday, October 23, 2019, Istituto Superiore di Sanità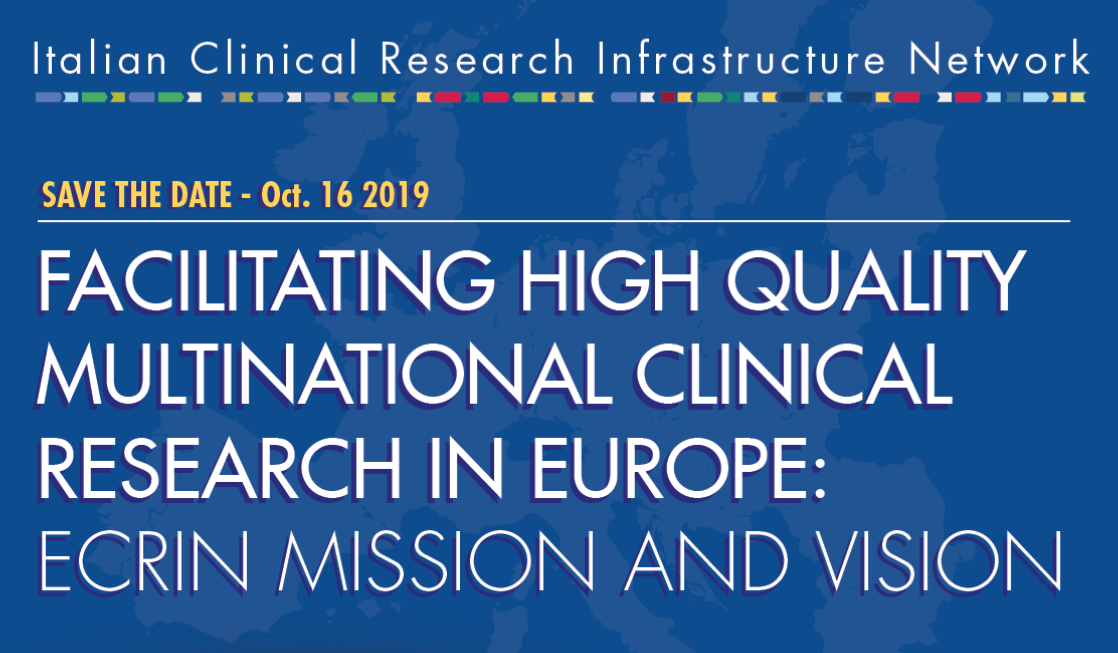 A meeting entitled 'Facilitating high-quality multinational clinical research in Europe: ECRIN mission and vision' will be held at the Istituto Superiore di Sanità (ISS) on 23 October 2019.
ISS coordinates the Italian Clinical Research Infrastructure Network (ItaCRIN), which aims to sustain independent clinical research and help investigators/sponsors promote (and join) multinational trials supported by ECRIN. 
The purpose of the event is to improve knowledge of ECRIN and to encourage Italian participation in international trials, by promoting high-level, non-profit clinical research focused on the identification of innovati ve therapetuic strategies for the the benefit of public health.
The conference is aimed at researchers and clinical investigators, medical doctors, grant office staff, clinical research organisations (CROs), and clinical trial unit (CTU) staff.
Participation is free-of-charge, but registration is required.
Learn more on the ISS website, or contact Maria Buoncervello.
Giornata di lancio bandi H2020 – Infrastrutture di ricerca: last call 2020
Tuesday, October 22, 2019, MIUR, Viale Trastevere 76/A Sala Aldo Moro (Ex Sala della Comunicazione), Rome

Organized by APRE, MIUR